The New Cancer Contribution Rose 'The Cure' Supports the End of Cancer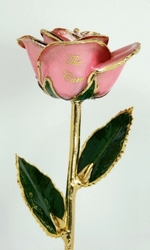 Are you looking for a new way to support the fight against cancer? The Cancer Contribution Rose may be the perfect gift to give someone you love while also supporting the development of a cure for cancer.
The Cancer Contribution Rose by loveisarose.com is a real, preserved pink rose trimmed in 24kt gold or platinum and the words "The Cure" are imprinted on the delicate flower petal. Optional imprints are available including "I am a Survivor" and "Be Inspired."
There are several organizations listed at the website to choose where the contribution will be made or you can also add a cancer organization or charity of your choice.